I have been a Disc Jockey and Emcee serving the Greater Delaware Valley and beyond since 1996. I can honestly tell you that I am as enthusiastic about what I do as I was back when I performed at my first event.
Music has had a profound impact upon me ever since I was a child. If you're like me, you're deeply affected when listening to a great song. For a very long time, I have easily recognized the distinct connection between people, music and the significant moments in their lives. I believe that is why I have gravitated to this field. It is most gratifying when I witness others thoroughly enjoying themselves with the music that I'm playing as their personal soundtrack.
Each and every one of my clients deserves to feel like they are my only client. Through the all-important consultation process, I collect all of the essential details that will enable me to help create the exact atmosphere they are looking for. Ultimately, I strive to make their complete satisfaction my ultimate goal.
No matter what the occasion, venue or age range of those in attendance, I consistently aim to create a fun, exciting and totally enjoyable party atmosphere while always conveying a professional, tasteful and polished presentation.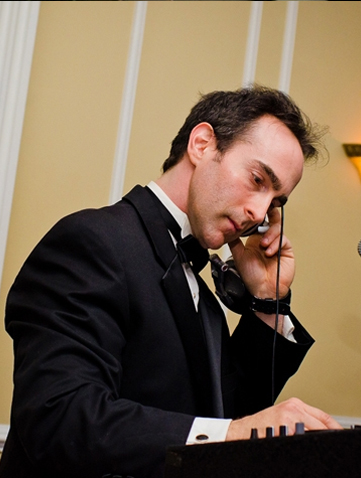 To ensure that the music I play and announcements I make are heard clearly, I only utilize professional, state of the art sound reproduction equipment. I also possess a massive, ever-expanding music library that contains all of your favorite artists and the songs you love and know by heart.

It would be my pleasure to offer my proven abilities to you and help make your important occasion a most enjoyable and memorable experience. I sincerely hope you'll select me as your "Special Event DJ and Emcee."