The Bar/Bat Mitzvah is a momentous occasion in the life of a young Jewish person. This joyous event, according to the Jewish faith, marks the beginning of adulthood. What better way to celebrate this terrific accomplishment than by having a sensational party with sound, lights, games and even video!
Together we can customize your child's Mitzvah celebration to include all of what you want and nothing you don't. We can create a fun-filled party with great music for all ages, lights, party favors games and contests.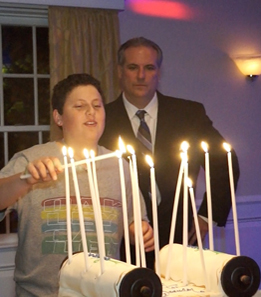 My Bar/Bat Mitzvah services include:
Totally Customized Event – Through the consultation process and interactive tools, we will develop a detailed, working itinerary. We'll discuss your musical preferences to be played, activities and other details that will make your Mitzvah party fun, exciting AND successful.
Punctual Arrival – All of my equipment will be installed and ready well in advance of your Mitzvah party's scheduled start time.
Dress Code – I will dress appropriately for your affair (tuxedo or suit unless instructed to do otherwise)
State of the Art Sound System – I use only professional-caliber audio equipment to play your music continuously from the start of your event until the end. All music and announcements will sound clean and clear. I will also keep back up equipment on standby in the unlikely event of equipment failure. Music volume will be constantly monitored and will be played at a level that is proper for each segment of your affair.
Incredible Music Library and Playlist – My extensive collection ranges from the Big Band Era thru today's top hits. I will play the songs you wish to here and stay clear of those songs you don't. Where permitted or suggested by you, I will select other song titles that I believe would go well with your choices.
Light System – To add to the party atmosphere, I'll include basic array of mood enhancing multi colored lights. More elaborate systems available.
Professional-Interactive DJ, Emcee and Coordinator – I will deliver only the level of involvement that you want and act respectfully and professionally towards your guests at all times. I will also work cooperatively with the other vendors you've selected so your Bar/Bat Mitzvah party flows smoothly.
Serving New Jersey, Pennsylvania, Delaware & beyond!